A Gouache Art Class in a Box: Reviewing the Artful 'Let's Learn Gouache' Set
6 min read
With beautifully illustrated packaging and a great collection of painting materials inside, the Artful Let's Learn Gouache Box would be the ideal gift for budding artists looking to take up gouache painting. Including paints, brushes, surfaces, accessories – as well as an inspirational magazine – this gift box is sure to spark your creativity and let you explore gouache painting to its full potential. We put this set to the test to see what it offers new artists.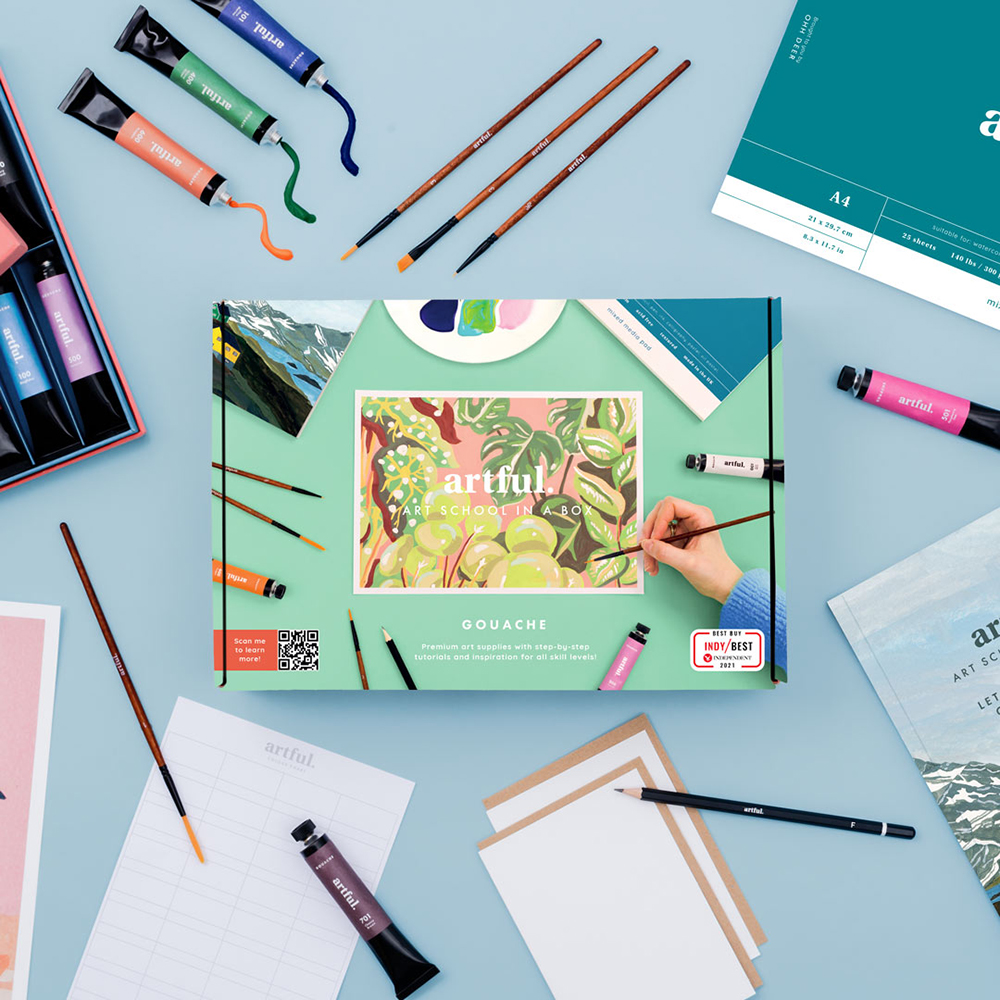 The Artful Let's Learn Gouache Starter Box includes a selection of curated art materials specifically selected for beginners and enthusiastic amateurs. With paints, brushes and other painting accessories, the set has everything a new artists needs to explore a new medium. There's also plenty of inspirational reading material to help you get the most out of your new paints. All the supplies and reading material offer a fantastic amount of content that's guaranteed to keep you entertained with new techniques and tutorials for quite some time.
What are Artful 'Let's Learn' Boxes?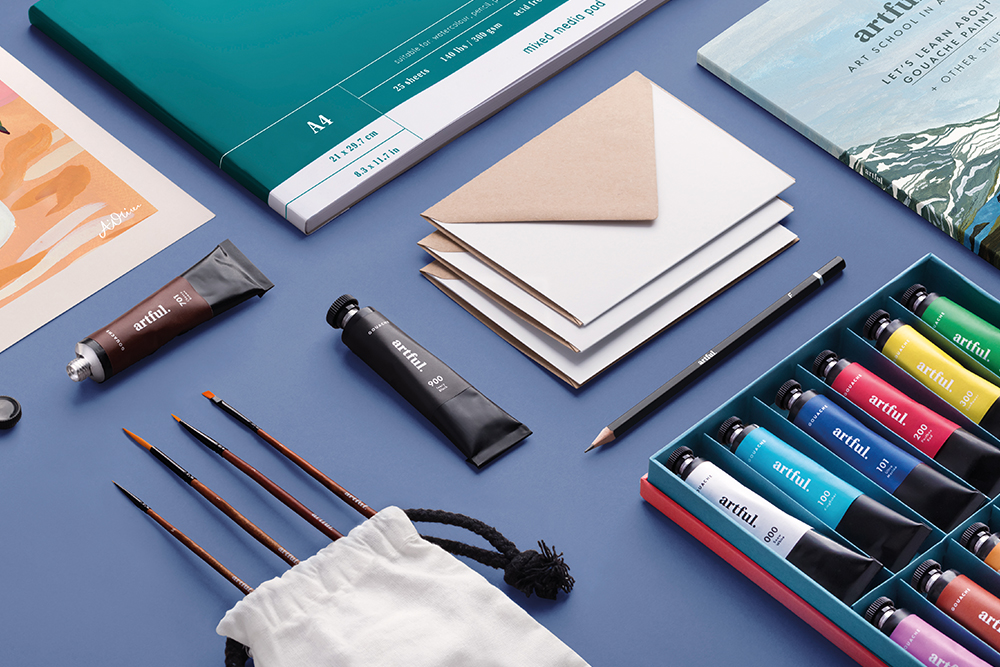 Artful's 'Let's Learn' boxes are essentially an art class in a box – perfect for artists looking to experiment with a new medium. Along with their 'Let's Learn Gouache' box, we also stock their Watercolour and Screen Printing sets. Each themed bundle includes a selection of artists colours alongside a variety of tools and accessories chosen to work seamlessly with the medium-specific techniques explored in each set. All the materials in each set work hand in hand, allowing you free reign over your creativity. You'll be able to fully explore all the tutorials and techniques outlined in each set – all without worrying about buying any extra materials. They aim to inspire, allowing you to expand your technical knowledge and confidence in making art to help you grow as a creative.
What's Included in the Let's Learn Gouache Box?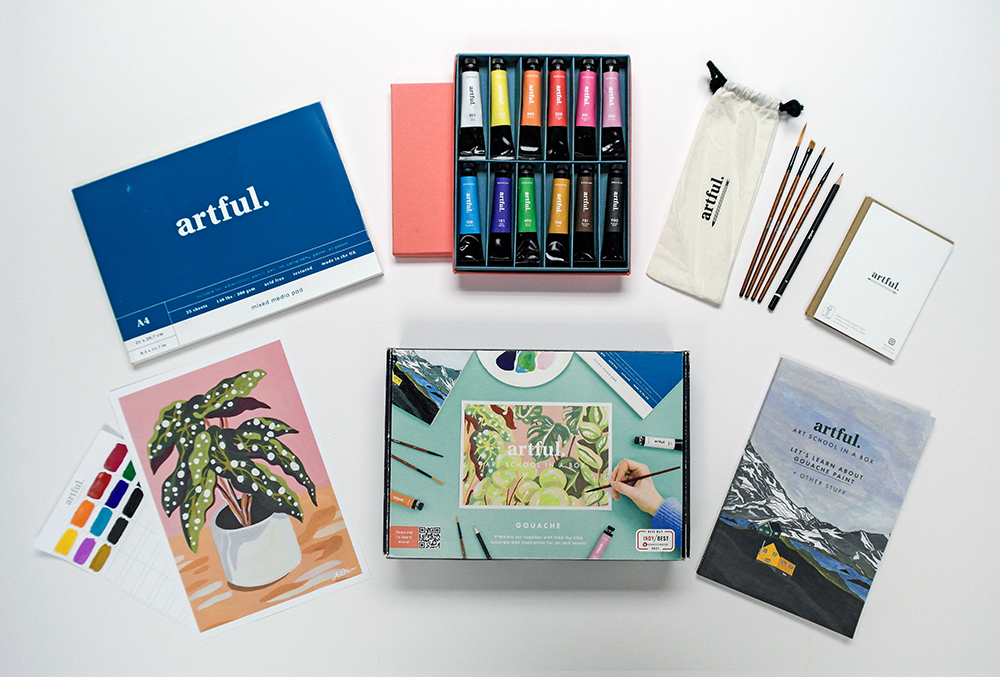 Every 'Let's Learn Gouache' Starter Box includes:
A set of 12 25ml tubes of Artful Gouache Paints presented in a coral-coloured presentation box.

Snow White, Sunflower, Pumpkin, Postbox Red, Raspberry Jam, Lavender, Kingfisher, Ultra Marine, Grassy Green, Sand, Chocolate Brown and Midnight Black.

4 x Artists' Paint Brushes
1 x A4 300gsm Mixed Media Paper Pad
1 x Artful F Pencil
1 x A4 Print
3 x Blank Greetings Cards
A5 Blank Colour Chart
1 x Artful Gouache Magazine
We took a look at all the contents of the box to see what they offer new artists.
Gouache Paint Set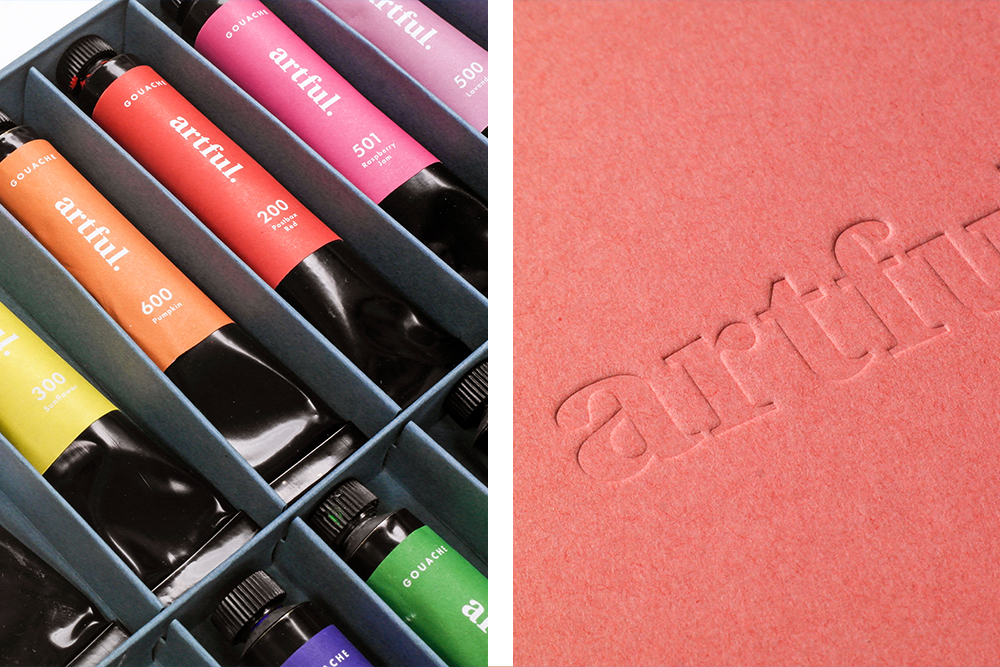 The sturdy coral-coloured, thick card box holds a great selection of 25ml gouache paints. There are a good selection of colours – including primaries for colour mixing and a few secondary colours that are convenient to use straight from the tube. Most of the colours have great opacity. However, there are the odd couple that need two or more passes to get a really opaque finish.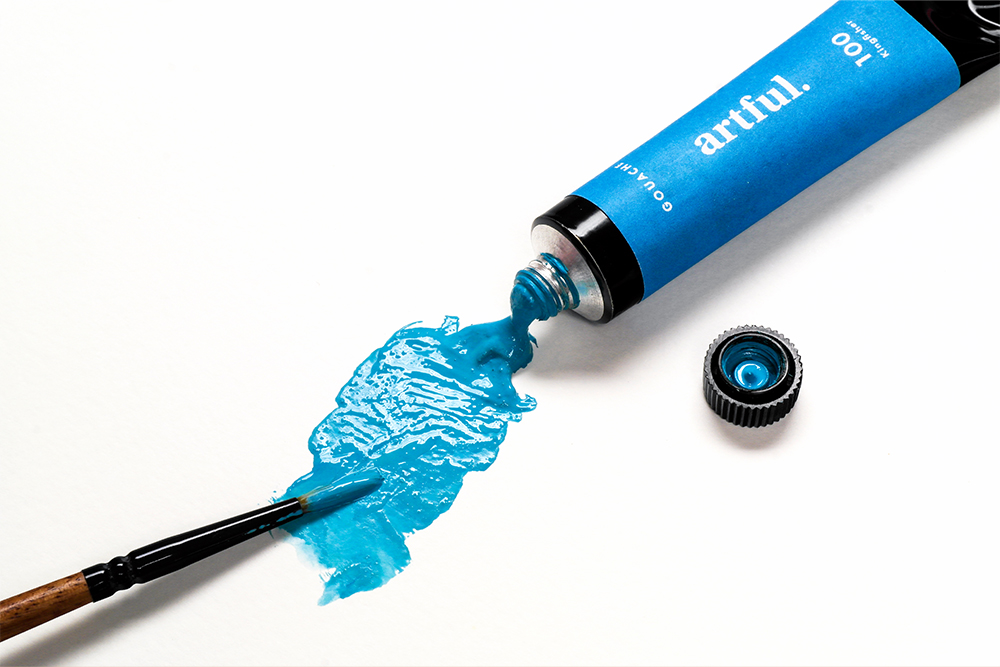 Gouache Paint Brushes
Four brushes come in each 'Let's Learn Gouache Set':
Round Brush – Size 5/0 (4.5mm hair length) and 3 (12.5mm hair length)
Rigger Brush – Size 1 (30mm hair length)
Angled Brush – Size 3
Each brush tip is made from golden-yellow colour synthetic fibres that are fairly responsive and exceptionally durable. They're finished with a black metal ferrule and wood effect handle that is comfortable to hold. A canvas pouch comes with the set that is handy to store your brushes when you're not using them.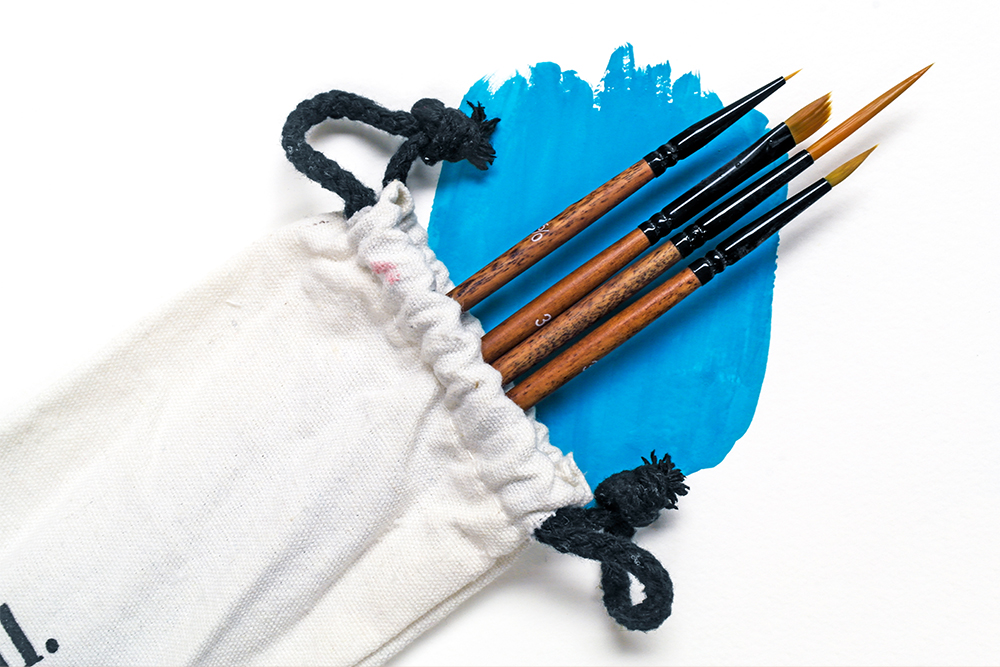 The round and rigger brushes maintiain their points well and are fantastic for painting in detail. The 5/0 in particular is fine enough that you'll be able to create quite delicate linework easily. A rigger brush is a great addition to the set. It's much like a standard round brush, but has extra long hair. This extra length means it holds more paint, so you'll have to reload less often. It's great for painting long lines and sweeping curves. The angled brush is useful for creating angular strokes and for general painting.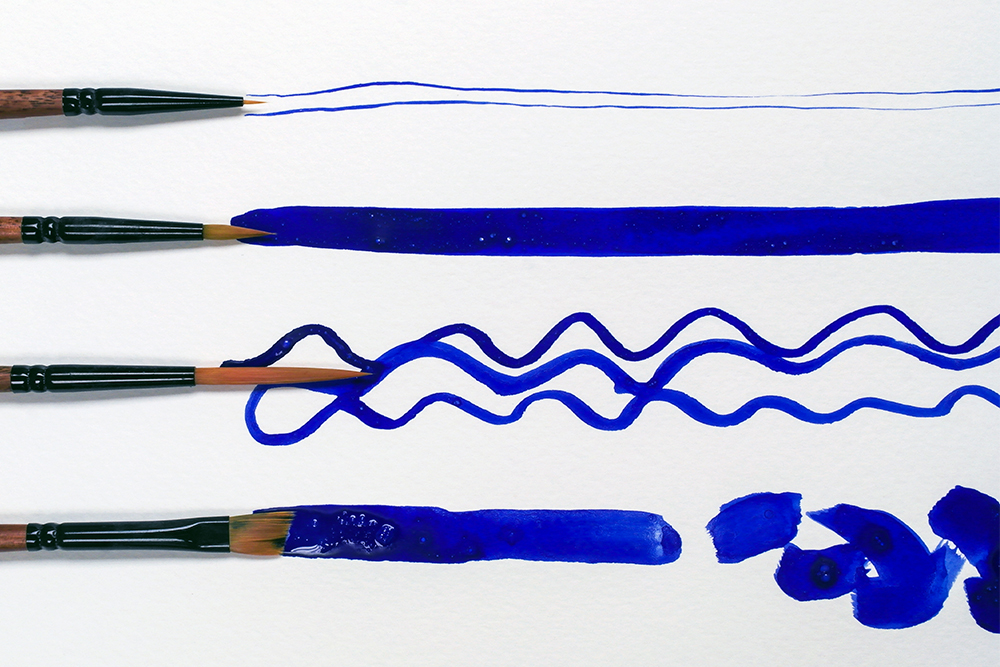 Overall, the range of shapes and sizes would be fine for absolute beginners but are a little more restrictive than the watercolour set. A large flat brush would certainly be useful to paint in backgrounds.
Gouache Painting Surfaces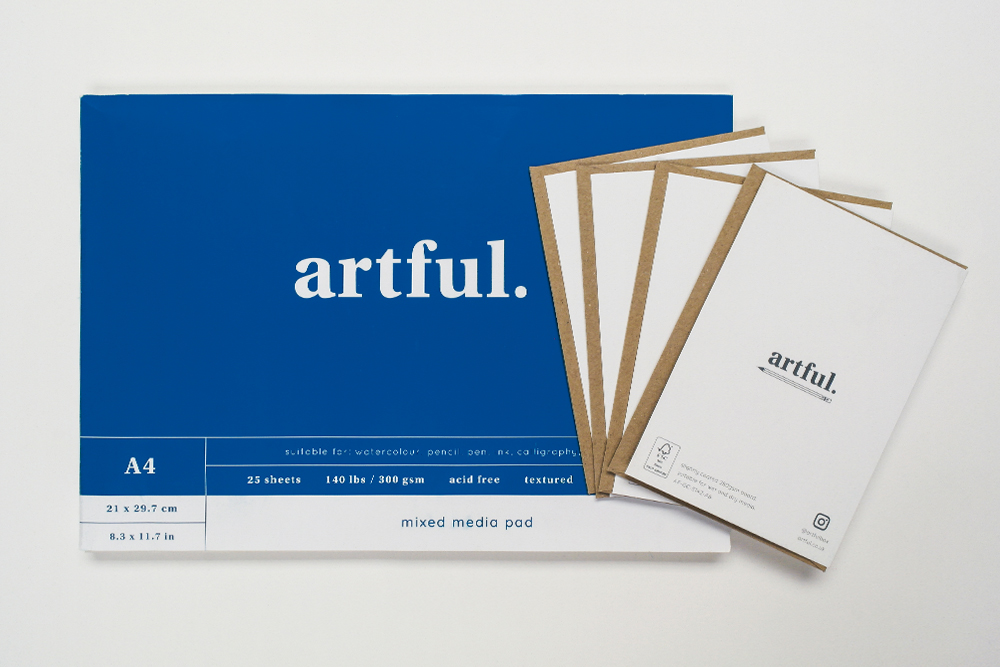 There are two different surfaces in this set – a mixed media paper pad and a set of four blank greetings cards. The Mixed Media Paper Pad includes 25 sheets of 300gsm paper suitable for use with watercolour, gouache, pencil, pen, ink, soft pastel and oil pastel. Its heavy weight makes it perfect for use with gouache as it won't cockle with most types of applications. Although if you're using lots of water you might find the paper warps a little. It has a medium, NOT-like texture.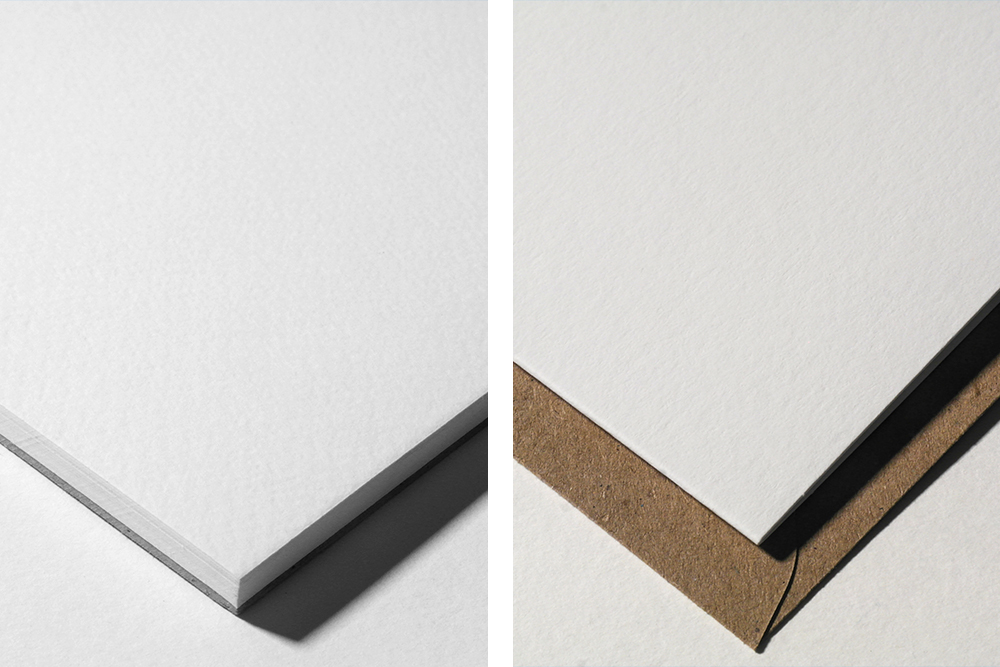 The blank greetings cards are made from 280gsm uncoated Fedrigoni board that takes both dry media and light applications of gouache well. Each of the cards comes complete with a kraft paper envelope – completing the package so you can create your very own customised cards for Christmas, Birthdays, anniversaries and more.
Other Accessories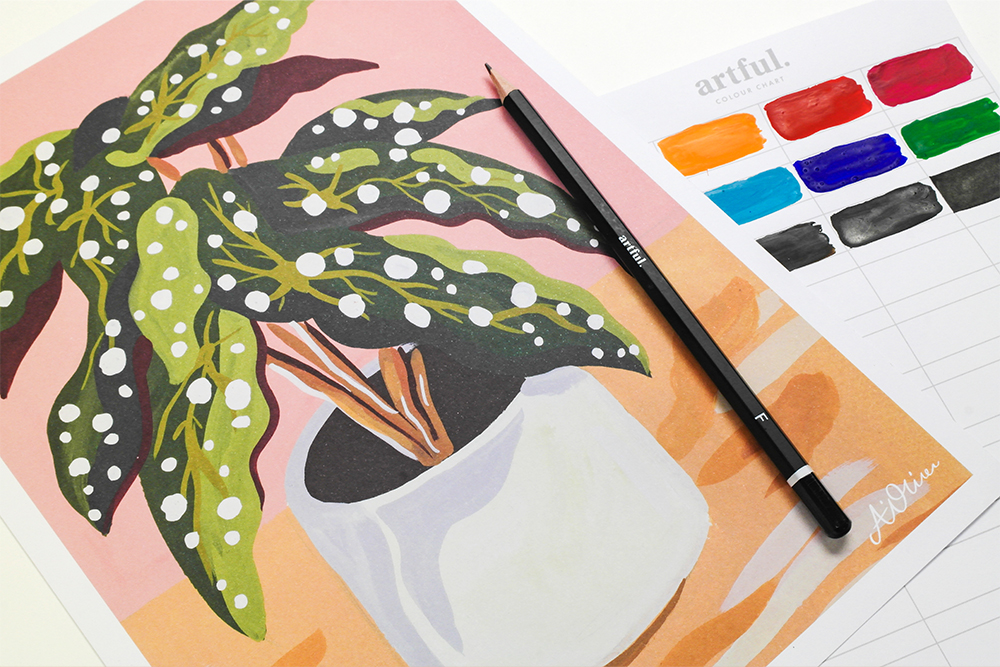 This gouache bundle also includes a pencil, colour chart and A4 art print. The F grade pencil is ideal for creating quick sketches, plotting out compositional ideas and creating fine linework. It's medium grade makes the pencil just hard enough to leave a visible line. But not too dark that your linework will show up once you layer it with paint.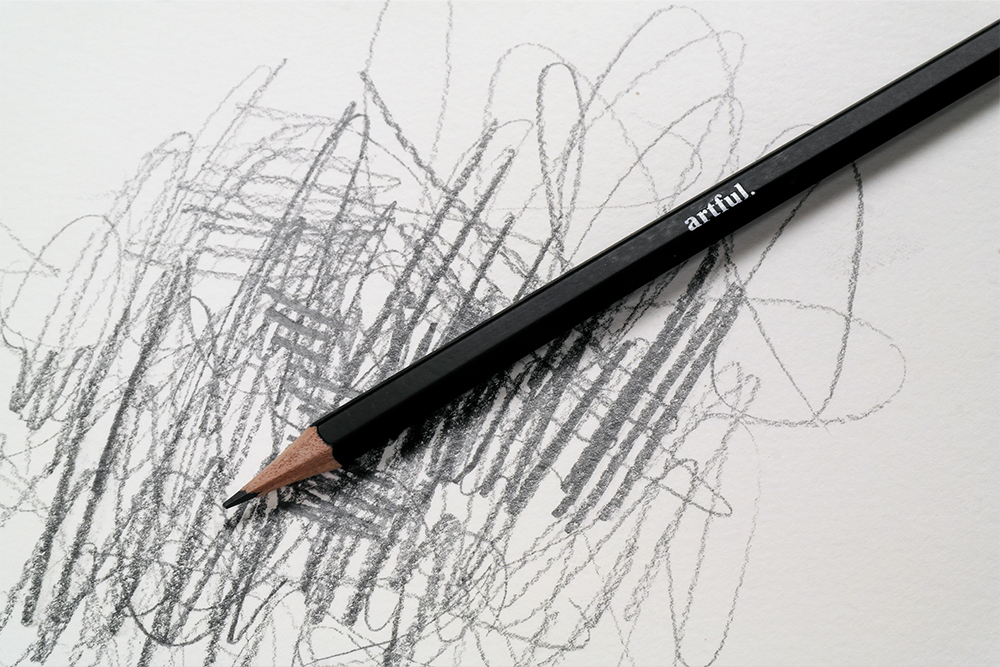 The A5 Colour Chart is great for creating a reference of all the swatches of colour in the set. It includes 36 rectangular spaces overall, giving you plenty of space to swatch each colour in the set, as well as any of your favourite mixes. Under each swatch space there's also a blank area so you can accurately record any colour names and ratios.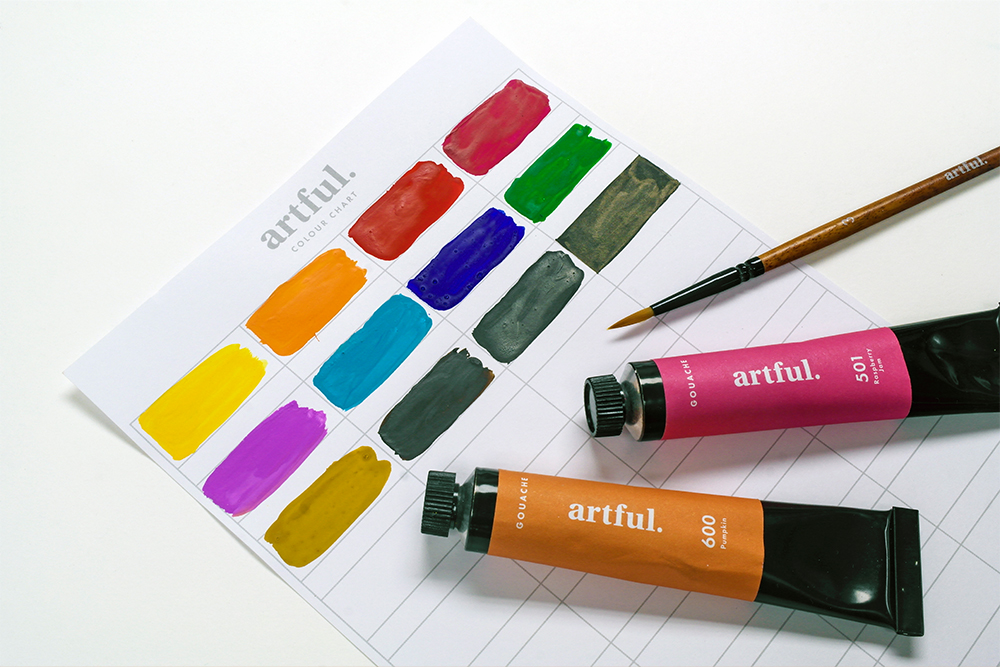 A print of a painting by the brand's own Alice Oliver is a nice finishing touch to the set. The bright an cheerful polka dot begonia is sure to inspire you to create your own botanical still life painting. Stick it up in your studio or frame on the wall to inspire you to get out your paints. There's even a step-by-step tutorial in the magazine so you can recreate it yourself.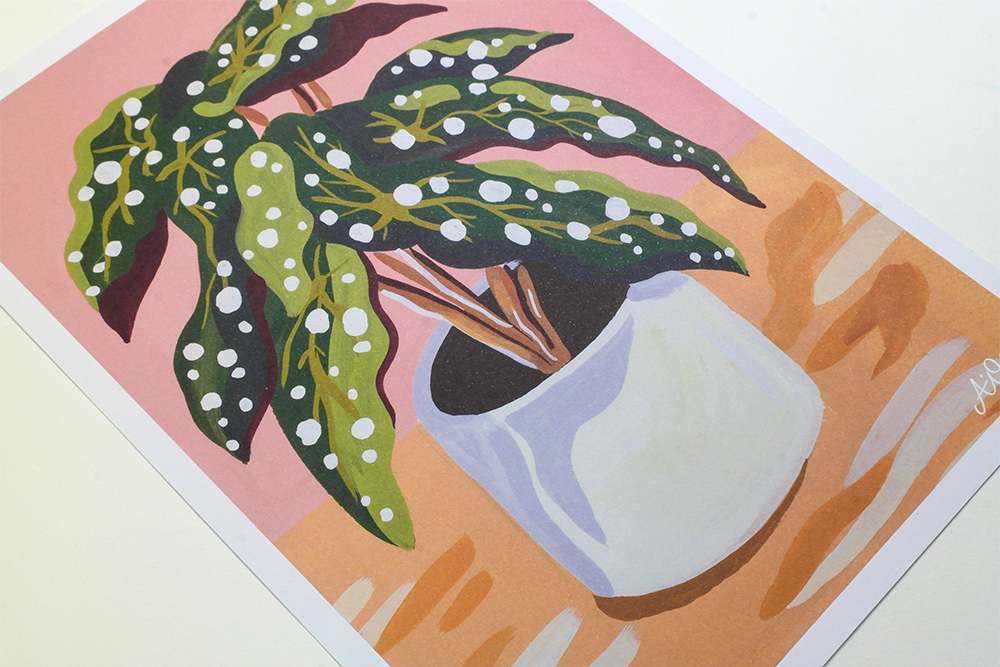 Artful Gouache Magazine
Totalling 112 pages in all, the Artful Gouache Magazine feels much more like a book. It's beautifully bound and has an enticing front cover that certainly makes you want to pick it up and discover more about gouache painting. It's full to the brim with inspirational content, including artist interviews and tutorials.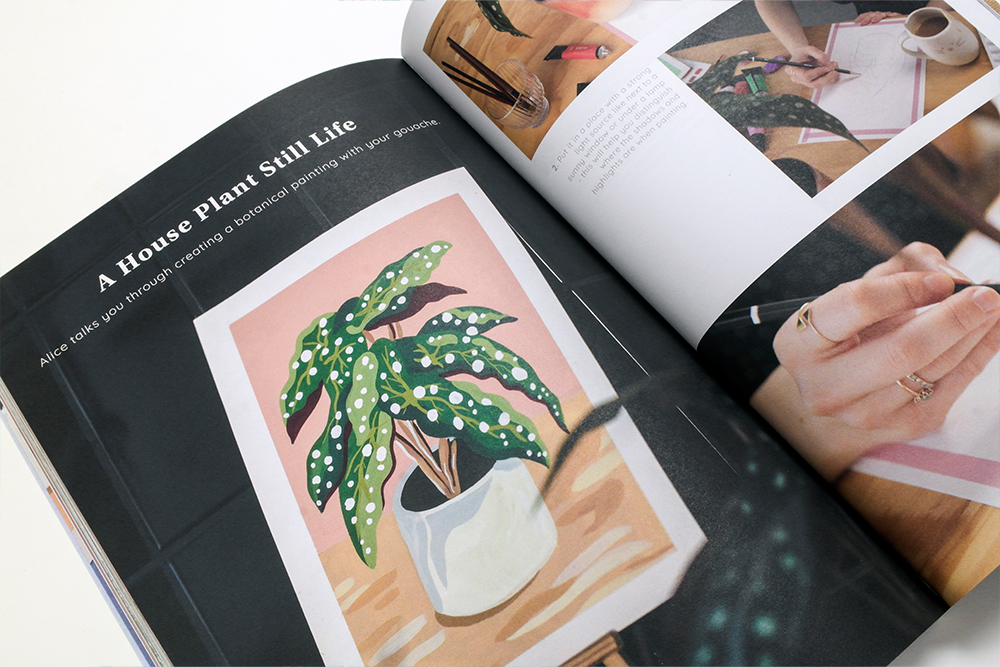 The artists in the book are all professionals in the medium and offer great insight into their working process. All the tutorials include step by step instructions with plenty of illustrations so you'll be able to follow along with ease. There's also a useful introduction covering the basics of gouache painting, including sections on techniques, brushes and diluting colour.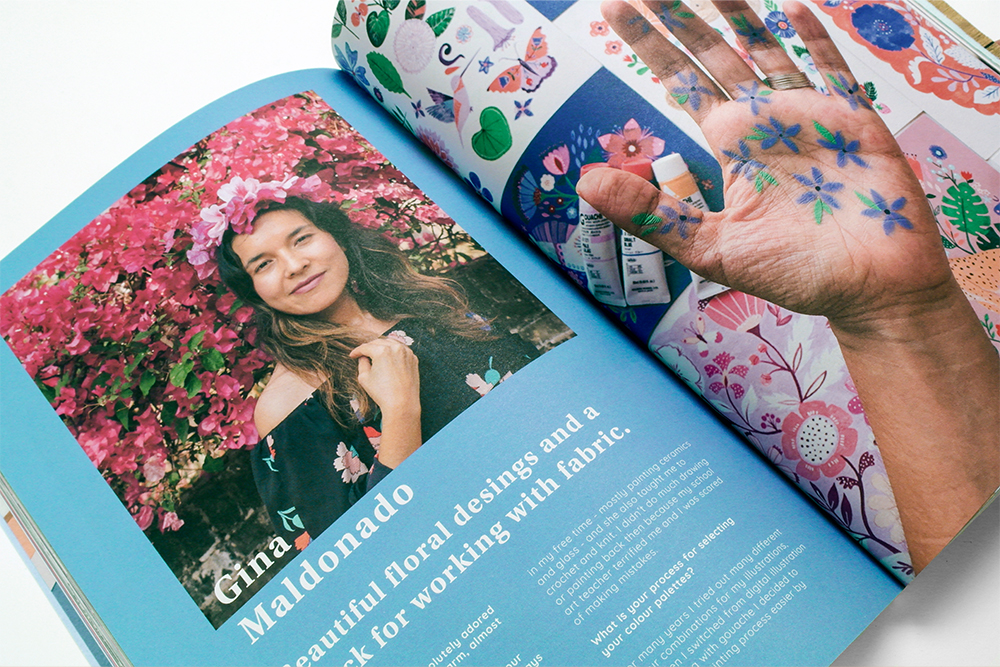 Kick start your creativity with the Let's Learn Gouache Box
Overall, the Artful Let's Learn Gouache Box is a great set for beginners. Not only does the box include a great selection of inspirational materials, it also has loads of helpful information and guidance that is often lacking in starter sets. The way the set is packaged and presented is inspiring in itself and would make it the ideal gift for any artist or craft lover curious about gouache painting. It's certainly something I'm sure a beginner artist would love to find under the tree on Christmas morning. The brand confirm that all the materials in this set are free from animal ingredients, so it's perfectly suitable for a vegan artist.
To supplement the materials in the box, Artful are also building an artists' community online. With each box you'll receive a code to access a huge range of video tutorials on the Artful website. They're also prolific on social media, creating inspiring content and tutorials on their Youtube channel as well as a daily drawing challenge on their Instagram account. There's no shortage of places to get inspiration, tips and more.
Buy your Artful Let's Learn Gouache Starter Box today or browse our other Artful Art Boxes online.